Item
Cultural Calendar
Cultural events are listed here with basic background details. For specific events, dates, and times, please see the Featured Events on the Cultural Calendar main page.
EVENT DESCRIPTION
The Blessing of Grapes coincides with the Feast of Assumption, although there is no connection between the two events. This festivity is rooted in the Bible as a command given by God through Moses that the Israelites are to donate the first bearing of all their fruits on the Tabernacle in order that with the first offering all fruits would receive God's blessing. The Hymn Park Sourp Khatchet (Glory to Your Sacred Cross) is sung; Biblical passages are recited, followed by a catholic prayer specifically for the occasion. After the prayer, the grapes the grapes are blessed three times. The grapes are then distributed to the faithful, many of whom have refrained from eating grapes until after this blessing.
Grapes are known to be one of the oldest cultivated plants in the world. It is believed that Noah in Bible, planted a vineyard immediately after disembarking from the Ark in Genesis chapter Nine.
https://armenianprelacy.org/2022/08/10/blessing-of-the-grapes/
LIKELY DATES
15 August, 2023.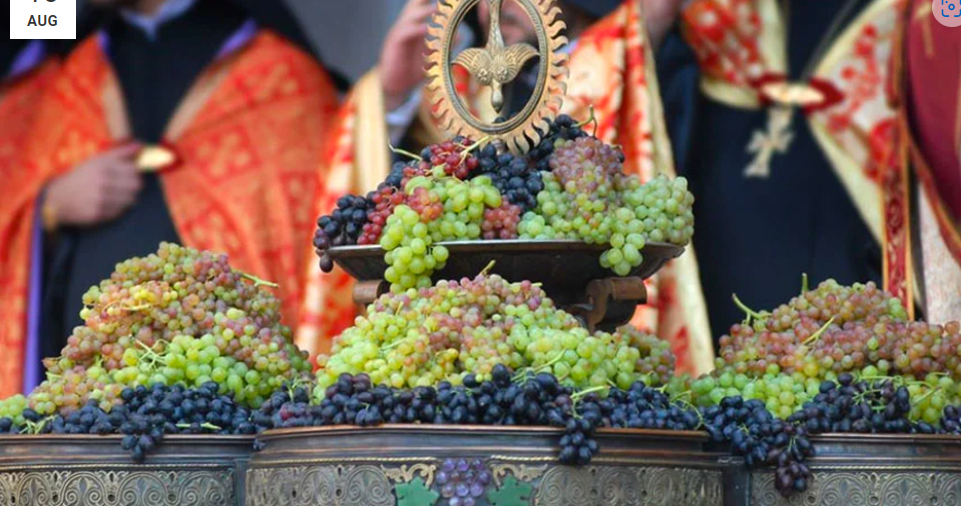 https://armenianprelacy.org/2022/08/10/blessing-of-the-grapes/